With the Eagles already being eight games into the season Howie Roseman has addressed the biggest team need for next year with the acquisition of Jay Ajayi. With Ajayi the biggest need for next year is now either linebacker or offensive tackle, but that could be subject to change if free agents to be like Alshon Jeffery and Tim Jernigan are not retained. Regardless, even with Ajayi, I feel the Eagles could and should pick a running back in this year's draft. The class is extremely deep and I really do think the Eagles could find a nice change up back in the fourth round.
Here are this week's three prospects to watch:
Equanimeous St. Brown – Notre Dame Wide Receiver, Plays Wake Forest on NBC @ 3:30
Equanimeous is one of the best athletes in the whole receiving class. While Brown doesn't exactly have the most ideal stats for a high round pick the potential is through the roof. The lack of stats in part has to do mostly with the way Notre Dame uses him. Notre Dame's quarterback, Brandon Wimbush, struggles with accuracy and Brown thrives with passes that exceed 15 yards. Brown has the size and speed that you don't see in every college receiver though and that's why there is upside. Drafting Brown somewhere in the fourth round if he decides to come out would be interesting for the Eagles as a replacement for Torrey Smith, who I don't think will be on the roster next year. I compare Brown to a taller version of Chris Godwin. The Eagles had interest in Godwin, and I think he would've been an Eagle instead of Rasul Douglas if he were available at the ninety-ninth pick in last year's draft.
Bryce Love – Stafford Running Back, Plays Washington State on FOX @3:30
With it already being week ten in college football, the heisman front runners are starting to build up. I bring this up because Love is of course one of the, if not the favorite to win the beloved trophy. Love has over 1,300 yards and eleven touchdowns on the ground already. Quickness is what makes Love such a interesting prospect because it's one of the things you simply can't teach. The combination and quickness and vision is what leads to Love breaking off long runs. Bryce Love currently has 10 rushes that have gained over 50 yards which leads the FBS. Love also leads the FBS in rushing right now and I don't expect him to slow down. The one consern about Love is as a pass catcher and blocker. Love has only 4 receptions on the year, but I look back to his freshman year in 2015 where he played receiver for the beiginning of his career at Stafford. As for blocking Love isn't the most ideal of players, but the Eagles liked Christian McCaffrey last year who has the same skills and traits.
Tyrell Crosby – Oregon Offensive Tackle, Plays Washington on Fox @ 10:00
Crosby is one of the best lineman in the 2018 class, but offensive tackle might not be the best suited of positions for him to play in the NFL. Crosby certainly looks like a tackle off the field, but his footwork is not exactly the best which is why I think he's a day two pick. Crosby struggles with speed pass rushes because of the way he struggles at moving his feet. Crosby might; however, be the best run blocking offensive lineman in the class by the way he uses his hands, hips and raw strength to force a defender to go anywhere he wants. Crosby has blocked for Oregons running back, Royce Freeman for four years now and he has been nothing, but productive. Oregon often runs to the left side which leads me to believe that Crosby is a reliable blocker. The Eagles have a need at offensive line and drafting a guy like Crosby might seem odd since he's more of a guard. He would be, in my eyes, be a starting left guard for the next decade plus on this current Eagles team. Pair him with the running stye like Jay Ajayi, who I compare Royce Freeman to is something I like and would consider doing.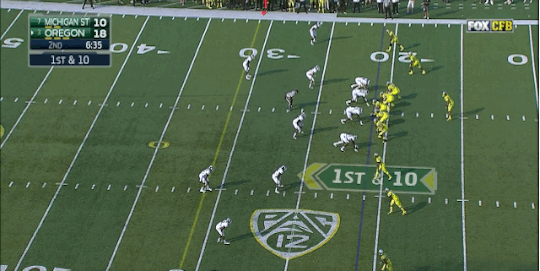 Crosby at right tackle.^