The Eagles are red hot and writing on draft prospects might seem a little far fetched. The truth is the Eagles are going to have some holes to fill this offseason with guys like; Alshon Jeffery, Patrick Robinson, Nigel Bradham, and Legarrette Blount all being free agents. The Eagles, I would expect, will sign at least two of the guys that I just mentioned. Howie Roseman took care of Tim Jernigan on Thursday by giving him 48 big ones over the next four year. The Eagles have sparse amount of draft picks this year, but that is that much of a problem. I still wouldn't be shocked to see Howie Roseman and Joe Douglas elect to trade out of the first round to pick up a second, third and possibly more picks. That would be my move, but I'm saying this in November. Certainly a lot can changed, but right now the Eagles only worry should be winning the NFC.
Here is my prospects that make sense for the Eagles
Rashaan Evans – Alabama Linebacker, Plays Mississippi State on ESPN @ 7:00
The Eagles have one of the, if not the best defense in the sport and a lot of credit goes to the rush defense. the Eagles have yet to give up 600 yards rushing with the season already going to week ten this week. The Eagles linebackers are playing at high level, and that is without maybe the best defensive player on the roster, Jordan Hicks. After playing a full sixteen game season last year Hicks is once on IR. Injuries aren't new to Hicks. The former Long Horn has had his fair share of shoulder and leg injuries. Drafting Evans, who plays well against the run and pass is something of intrigue. Evans is a hard hitting player that has been productive in Alabama for years. The track history is there for Evans and many are comparing him to a former Crimson Tide linebacker named, Dont'a Hightower. Evans would probably be a guy you would have to take in the first round and I'd consider it if he were available.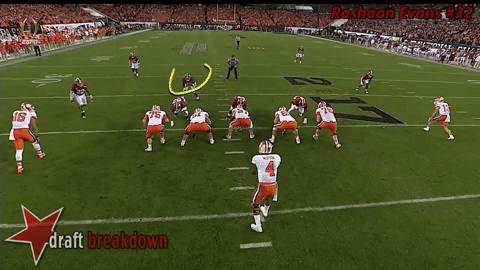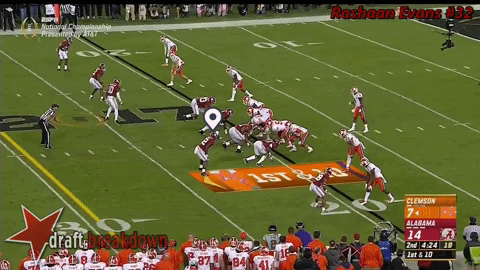 Akrum Wadley – Iowa Running Back, Plays Wisconsin on ABC @ 3:30
The running back class is absolutely stacked with talent that includes Barkley, Guice, Chubb, Michel, Freeman, and Love. Akrum Wadley is a name that goes untacked about, but I can tell you he will be productive in the NFL. Wadley is affective as a blocker, runner and receiver. He is a complete back that reminds me of Kareem Hunt with the way they have the ability to make defenders look foolish. Drafting Wadley would be looked at as replacement for Jay Ajayi if things weren't to work out. I personally think it will, but there is only one way to actually figure it out. Drafting Wadley in the fourth round could be feasible for Howie Roseman and Joe Douglas on draft day.
Calvin Ridley – Alabama Wide Receiver, Plays Mississippi State on ESPN @ 7:00
Calvin entered the year as possibly the best receiver in the class. While having a solid year, (44 receptions, 584 yards and 2 touchdowns) he hasn't had a 100-yard game yet. Ridley is an incredible athlete that can run any route you ask. He has the ability to play inside and out which is something the Eagles like to have in their receivers (hence why they traded Jordan Matthews). If I said the beginning of the year the Eagles would have a shot to draft Ridley in the first round that would have been taken that the Eagles were a bottom eight team. That of course isn't the case and now it is possible that Ridley could be on the board when the Eagles are up and he is a talent you don't pass on. I've mentioned this for a few weeks now that receiver is still a position of need even if Alshon Jeffery is resigned. Could you imagine Alshon Jeffery and Calvin Ridley on the outside with Nelson Agholor and Zach Ertz across the middle? That would be an even more lethal offense.
^Freshman year Calvin Ridley
^Freshman year Calvin Ridley